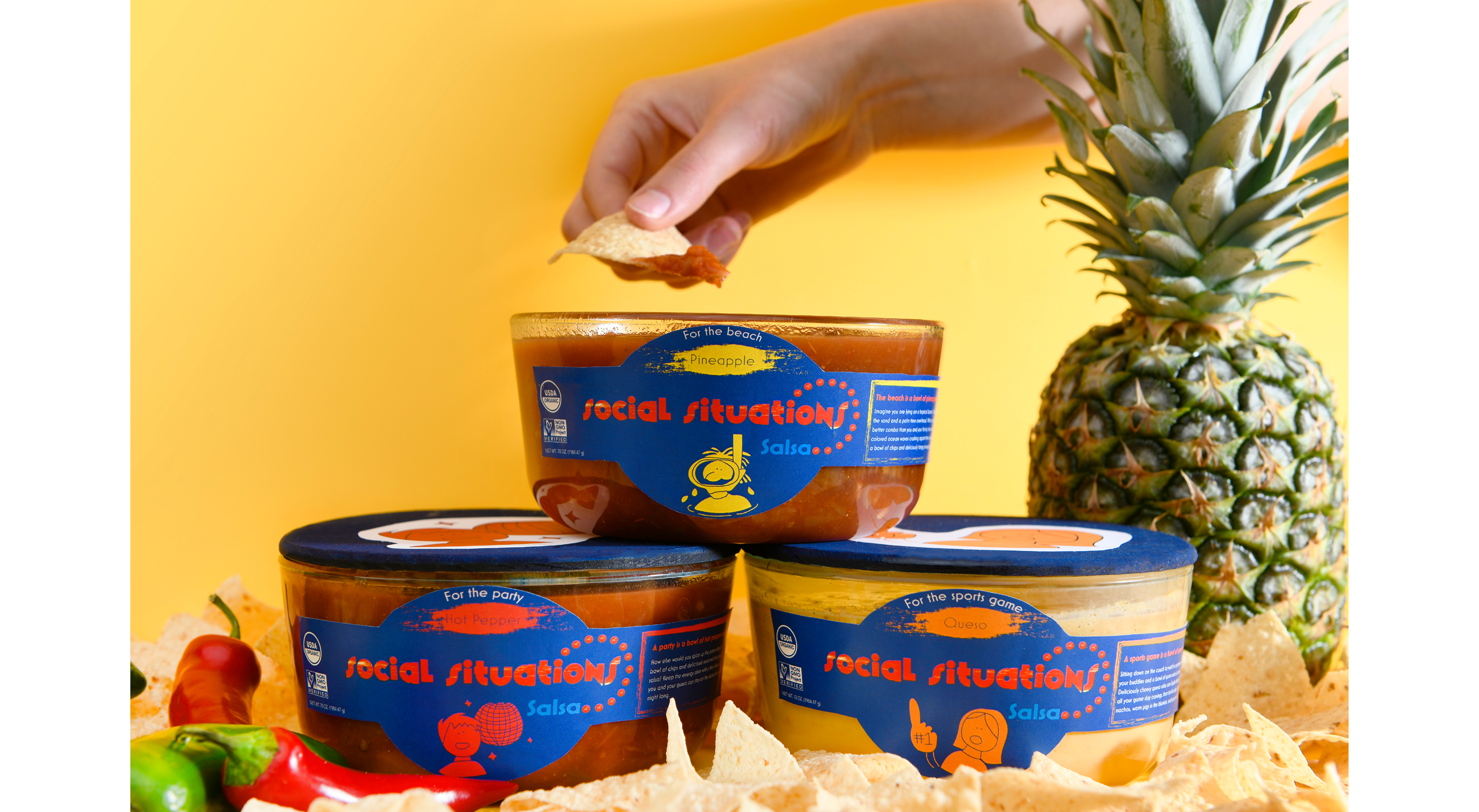 Looking at the shelves of salsa in the grocery store can be overwhelming because all the jars of salsa look the same; similar jar shape, similar color scheme, similar sort flavors. But what if the salsa could choose you. Because salsa is shared with friends and family, Social Situations Salsa has different flavors for different social situations in a wider bowl to make sharing easier. Life is like a new bowl of salsa!
See ​​​​​​​my process for creating the wooden lids for each flavor!
​​​​​​​
Branding 

|

  Packaging 

|

  Strategy  

|

  Design 

|

  Art Direction 

|

  Concept Creation  

|  

Research 

|  

Illustration 

|

  Prototyping 

|

  Advertising 

|

  Copywriting 

|

  Logo Design 

|

  Naming  

|

  Graphic Design
The five flavors of Social Situations Salsa are different social situations:
The beach is a bowl of pineapple salsa!
Imagine you are lying on a tropical beach. Your toes in the sand and a palm tree overhead. What could be a better combo than you and your family, the teal-colored ocean waves crashing against the shore, and a bowl of chips and deliciously tangy pineapple salsa.       
A picnic is a bowl of peach salsa!
Nothing is better than fruit in the summer. And what's a summer without a picnic in the sun with your closest friends and family. Make your next summer picnic peachy with a bowl of chips and sweet peach salsa. 
A barbecue is a bowl of jalapeño salsa!
You can't have a barbecue without condiments. The next time you and your friends and family gather for a backyard barbecue, savory jalapeño salsa can be your go-to condiment for anything BBQ.
A party is a bowl of hot pepper salsa!  
How else would you spice up the party without a bowl of chips and seasoned hot pepper salsa? Keep you and your guests can stay on the dance floor with this fiery flavor.
A sports game is a bowl of queso!
Sitting down on the couch to watch a sports game with your buddies and a bowl of queso is a must. Cheesy queso can (quite literally) cover all your game day cravings, from tortilla chips, to messy nachos, warm pigs in the blanket and spicy chile.